Robotic radical prostatectomy is a surgical procedure by which the prostate gland and its surrounding structures and tissues are removed. These structures can include both lymph nodes as well as the seminal vesicles.
By using a robotic-assisted laparoscopic (key-hole using a computer interface) procedure the surgeon aims to remove all cancer and retain the patient potency and continence.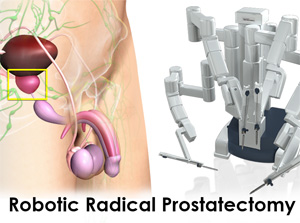 Laparoscopic and robotic approaches potentially offer:
a faster recovery
less blood loss, and
less transfusion risk
Dr Gianduzzo's Robotic Experience
Dr Gianduzzo is one of Australia's most experienced robotic prostatectomy surgeons and has been performing key-hole (laparoscopic and robotic) prostate surgery since 2004 and has performed around 1,000 major key-hole prostate surgeries.
He has completed a master's thesis on advances in robotic prostatectomy, which included robotic instrument design and development with the robotic manufacturing company (www.intuitivesurgical.com).
Dr Gianduzzo received international fellowship training in key-hole prostate surgery in both the UK and at the Cleveland Clinic, USA. International training in radical prostatectomy is known to improve operative outcomes.
Features and Benefits of a Radical Prostatectomy
This surgery is currently the gold standard for treating cases of localized prostate cancer. It is a highly effective treatment with good long term results in the appropriately selected patient.
Along with the removal of the malignancy, the surgery results in patient feeling relief from symptoms caused by prostate cancer such as difficulty in urination, dribbling or incontinence.
Robotic Radical Prostatectomy Outcomes
Dr Gianduzzo can offer the following surgical outcome analysis for radical prostatectomy surgery:
Negative surgical margins
Potency (erection and intercourse) rates
Continence (pad free) rates
Positive Surgical Margins
When the prostate is removed it is covered in ink to mark where the surgeon has cut. It is then examined under the microscope.
If cancer cells
Touch the ink, then this may indicate that not all of the cancer cells have been cleared and some has been left behind. This is termed a "positive margin".
Do not touch the ink then this is a "negative margin".
The first aim of radical prostatectomy, before any other, is to achieve a negative margin.
If cancer has extended outside of the prostate gland into the adjacent tissue then the chance of a positive margin increases. However, in cases where the cancer is confined to the prostate gland, the positive margin rate should be very low. Apart from some rare exceptions, it generally only occurs when the surgeon accidentally cuts into the prostate.
Currently Dr Gianduzzo's positive margin rate for disease contained to the prostate is 4%, consistent with results from world-leading institutions and significantly lower than the national average. The following table compares his results to that of international literature.
The following table compares their results to that of contemporaneous international literature.
Positive Margin Rate Comparison Table
| | | |
| --- | --- | --- |
| | Robotic Prostatectomy | Open Prostatectomy |
| A/Prof Gianduzzo | 4% | - |
| Published International Rates | 2.5 - 22% | 6% - 36.7% |
Source: Berryhill et al. Urology 2008, 72:15-23, BJU Int. 2012 Dec;110 Suppl 4:64-70
Erections and Urinary Control
The number of patients recovering their erections (potency) and their urinary control (continence) also compares favourably to the published international literature.
Overall:
The pad-free continence rate at 12 months after the operation is approximately 80-85%. Of the 15-20% of men wearing pads at 1 year, most wear a security liner for confidence or to catch a small amount of minor leak. Severe incontinence at 12 months requiring further surgery is approximately 1.5%.
Intercourse rate at 12 months in men in whom both nerves have been spared and who had normal erections prior to surgery is approximately 70%. This rate varies depending on age, degree of nerve sparing, and the quality of the erections prior to surgery.
Despite this, it is important to note that both your waterworks and your erections will take a hit from surgery, irrespective of how, or by whom, your surgery is done.
Preparation Before a Radical Prostatectomy
Please refer to Preparation, and Recover as listed on Radical Prostatectomy page
Care Plan After a Radical Prostatectomy
Please refer to Care Plan are listed on Radical Prostatectomy page
Risks With Robotic Radical Prostatectomy
Please refer to Risk and Complications are listed on Radical Prostatectomy page