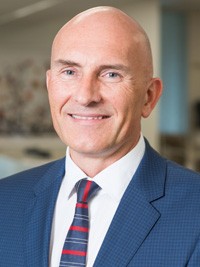 A/Prof Paul Vasey is a specialist medical oncologist.
Dr Vasey entered private practice in 2006 and has particular clinical interests in:
Genitourinary cancer, and
Breast
Ovary, uterine, and cervix cancers
Professor Vasey was born in Newcastle, UK and moved to Australia in 2004 into the position of staff specialist at the Royal Brisbane and Women's Hospital, Brisbane.
Qualifications
MBChB in Scotland in 1988
He completed general internal medicine training - 1991
Cancer Research UK clinical research fellow and clinical lecturer in the department of oncology, University of Glasgow, Scotland from 1992-1996
Clinical and laboratory research, he obtained MSc in clinical pharmacology MSc(Clin. Pharm) - 1994
MD (1996)
MRCP (UK)
Appointments
He is a visiting medical oncologist at the
Wesley Hospital in Brisbane,
Consults at
St Andrews Private Hospital in Toowoomba
St Andrews Private Hospital in Ipswich.
Professor Vasey has appointments as
Associate professor University of Queensland
Honorary associate of the University of Sydney.
Chairman of the Scottish Gynecologic Cancer Trials Group
Memberships & Associations
Fellow of the Royal Australasian College of Physicians (FRACP) - 2005
American Society of Clinical Oncology ASCO
Gynecologic Cancer InterGroup GCIG
Australia-New Zealand Gynecologic Oncology Group ANZGO
Australia-New Zealand Breast Cancer Trials Group ANZBCTG
Australian Prostate and Urology Group APUG
Medical Oncology Group of Australia MOGA
Australian Association of Consultant Physicians AACP
Australian Medical Association AMA
UK national genitourinary and gynecologic cancer trials national steering groups executive board member
Prior Professional Positions
From 1996-2003 Dr Vasey was the Cancer Research UK senior lecturer in medical oncology and honorary consultant in medical oncology at the prestigious Beatson Oncology Centre in Glasgow, Scotland.
In 2003 he was promoted to reader at the University of Glasgow.
From 2001-2004 he was the director of the West of Scotland Clinical Trials Unit (CTU) and in 2002. Under Dr Vasey's leadership, this unit was awarded Cancer Research UK's highest award, Alpha*.
Publications
He was the first author of the ESMO guidelines for the treatment of ovarian cancer.
Dr Vasey has over 200 publications including textbooks, peer-reviewed journals, conference contributions and other outputs.
His thesis was entitled 'InVitrostudies of cisplatin-resistant human ovarian carcinoma cells'.